Title: The Lovely Bones
Author: Alice Sebold
Format: Paperback, 328 pages
Published: 2004 by Back Bay Books (Originally published in 2002)
ISBN: 0-316-16881-5
Genre: Fiction, Adult
Rating: 5 Stars
Read Count: 1
Synopsis: "My name was Salmon, like the fish; first name Susie. I was fourteen when I was murdered on December 6, 1973." So begins the story of Susie Salmon, who is adjusting to her new home in heaven, a place that is not at all what she expected, even as she is watching life on earth continue without her--her friends trading rumors about her disappearance, her killer trying to cover his tracks, her grief-stricken family unraveling. Out of unspeakable tragedy and loss, The Lovely Bones succeeds, miraculously, in building a tale filled with hope, humor, suspense, even joy.
My Thoughts
How I am after finishing The Lovely Bones...let's take a look at the gif, shall we?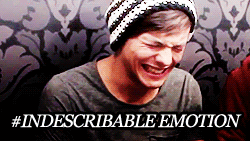 No book has ever made me feel so happy, sad, weepy and hopeful as The Lovely Bones did. The first chapter starts with hardest part of the book. the rape and murder of Susie Salmon; the girl who will be your guide through the book. Now, I don't normally read anything so depressing but after this I have learned that people need books like this. You feel the fear and pain that Susie suffered, the loss and anger that her family and friends felt and Sebold gives us hope that even after such tragedy it doesn't mean the end.
Overall, if you hate sad books don't read it but in my opinion you'll be missing out. The story is beautiful, moving between Susie's heaven and back on Earth as she watches the years pass and Sebold writes each character with a deep sense of purpose, whether it's one of Susie's fellow victims or a neighbor.
Quotes
"Nothing is ever certain."
"Sometimes the dreams that come true are the dreams you never even knew you had."
"Each time I told my story, I lost a bit, the smallest drop of pain. It was that day that I knew I wanted to tell the story of my family. Because horror on Earth is real and it is every day. It is like a flower or like the sun; it cannot be contained."
About the Author
Alice Sebold is also the author of Lucky, a memoir. She lives in California with her husband, the novelist Glen David Gold.