Title:
Savor (Vicious Feast, #1)
Author:
Kate Evangelista
Published:
December 2, 2013 by Crescent Moon Press
Genre:
Paranormal, Romance,
New Adult
Rating:
4 Stars
Read Count:
1
Synopsis:
Mature and explicit content. Not recommended for readers below 18-years-old. Yup, you've got to be that old to read my story. Consider yourself warned.
I'm Dakota Collins, a tough talking, eye patch wearing, workaholic photography student. Why am I important? Well, maybe because I get to spend an entire month with Vicious, only the sickest indie rock band out there.
You see, I needed a subject for my Spring Showcase introspective in order to graduate. During a chance encounter at a club I'd been sent to cover for the Daily Gossip, our ironically named college paper, the features writer I usually teamed up with introduced me to the band—by accident, I might add. It involved a run in with a scary, bald bodyguard. Anyway, long story short, I signed a contract to take pictures of Vicious.
I should have known their handsome yet way too serious for his own good bassist, Luka Visraya, wouldn't be able to keep his hands to himself. He's gorgeous and all, but the way he smiles spelled trouble with a capital L. I'm in for a long month with him around.
Crazy shit happens and then some. So, if you want the skinny on Vicious and the events revolving around my stay at Lunar Manor, read my story.
Again, refer to the warning above.
My Thoughts
So, what can I say about Savor? Let me give you an example of me finishing this AWESOME book with a little help from Sulley...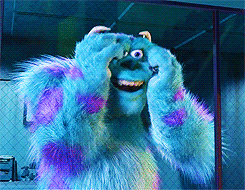 Savor is told by Dakota Collins, our photography student and eye patch wearin' MC as she prepares to graduate from college. On a job for the school paper, Dakota has a once in a lifetime meeting with the world famous rock band, Vicious whose bassist Luka Visraya is smokin' hot (okay, the whole band is smokin' hot) and difficult to figure out and she ends up getting the chance to photograph the band for her final project which means she'll be spending a month at Lunar Manor.
The story is really an all-around fun way to pass the time, the banter between everyone kept me cracking up and the sexual tension between Dakota and Luka was hot and sweet but
Savor is a great deal of romance and you don't really start to learn of anything paranormal until the very end of the book so I am definitely looking forward to Relish because of that. Also, f
air warning, there are some smexy, smexy scenes in Savor peeps, lots of swooning and fanning will commence for you when reading this.
In conclusion, Savor has everything you need for the perfect book, loveable characters, hot rockers, beautiful music and an ending to keep you hooked.
*Thanks to Kate Evangelista for my review copy of Savor!*
About the Author
When Kate Evangelista was told she had a knack for writing stories, she did the next best thing: entered medical school.
After realizing she wasn't going to be the next Doogie Howser, M.D.
, Kate wandered into the Literature department of her university and never looked back. Today, she is in possession of a piece of paper that says to the world she owns a Literature degree. To make matters worse, she took Master's courses in creative writing. In the end, she realized to be a writer, none of what she had mattered. What really mattered? Writing. Plain and simple, honest to God, sitting in front of her computer, writing. Today, she lives in the Philippines and writes full-time.